Project :: The Rix
Molybdenum, Copper, Zinc
Nelson, B.C.
The Rix project is located approximately 15 kilometers northwest of Nelson BC and one and a half kilometers to the west of the Big Buck Moly claims. It is a potential prospect for molybdenum, copper and zinc.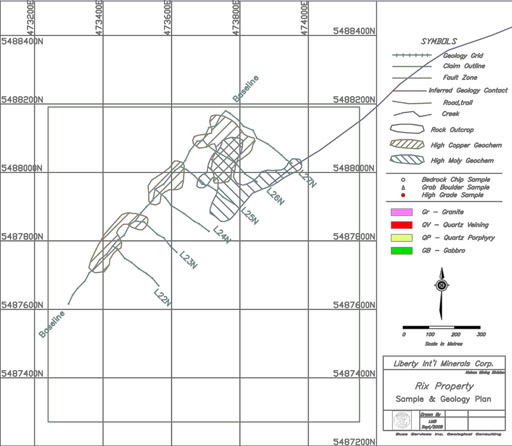 Click for Full Size
The four cell approximate 100 hectare parcel is located about one and a half kilometers to the west of the Big Buck molybdenum prospect and Liberty holds all the claims between the two properties and large parcels of tenures surrounding it.
Click Respective Map for Full Size Version
Based on reports of high molybdenum values in the headwaters of the creek flowing out of the property, Liberty conducted a soil geochemistry program across the property in 2008. The geochemical assay results identified a relatively high anomaly of molybdenum running to the east of the grid area in the direction of the Big Buck Moly anomaly on Mt Nelson which becomes stronger towards the west.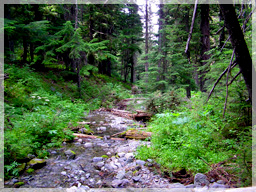 The two parcels (The Rix and Big Buck Moly) which have been optioned by Liberty are approximately one and a half kilometers apart suggesting a potential mineralized trend between the two properties.
The limited amount of exploration work conducted on the Rix project has also identified a potential zinc copper anomaly on the property.
Liberty intends to fly airborne geophysics over the two prospects and valley between to further identify conductive zones and structures which may connect the two anomalies.
Access into the Rix project is currently very limited as there is no road into the area and access is only by walking via a slashed trail approximately one and a half kilometers in distance or by helicopter.