Liberia
| | |
| --- | --- |
| Location | Western Africa, bordering the North Atlantic Ocean |
| Area | 111,369 km² |
| Capital | Monrovia (6°19′N, 10°48′W) |
| Neighbors | Sierra Leone, Guinea & Côte d'Ivoire |
| Climate | Mostly tropical; hot & humid. Dry winters with hot days and cool to cold nights; wet, cloudy summers with frequent heavy showers. |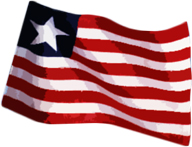 Liberia has been described as one of the last areas of virtually unexplored rocks in the world. Eastern Liberia is made up of rocks of Birimian age with significant potential for gold. Western Liberia is made up of rocks of Archæan age that contain diamonds, gold, iron ore, nickel, manganese, palladium, platinum and uranium.
After years of devastating civil war and strife, the international community has been encouraged by Liberia's return to democracy in 2005. The renewed presence of multi-national UN peace keepers, in addition to the 2007 decision by the UN Security Council to lift the ban on Liberian diamond exports, have supported Liberia's democratising efforts. The International Monetary Fund, the United States and China have announced decisions to forgive significant portions of Liberia's debt, further aiding the country's redevelopment.
Since the currently elected president, Ellen Johnson Sirleaf, took power in January 2006, Liberia has moved quickly towards rebuilding and growth and normalizing relations with the rest of the world. The World Bank and The European Commission have agreed to contribute to Liberia's infrastructure, reconstruction and education. The World Bank has agreed on a US$16.5 million grant for urgent infrastructure projects. The European Commission has given US$80 million for water and electricity projects as well as education.
Liberia is currently drafting a new Minerals Development Policy and Mining Code aimed at attracting foreign investment. In December 2006, ArcelorMittal, the world's number one steel company, agreed to a US$1 billion mining development investment. In December 2007, ArcelorMittal increased that investment to US $1.5 billion, giving Liberia the topmost priority in ArcelorMittal's mining sector. ArcelorMittal expects to ship the first consignment of products in mid-2009. ArcelorMittal's Chairman, Lakshmi Mittal, feels that the scepticism which once hung over Liberia has now been removed with the return of peace and democracy to the country.
Liberia's main mineral products are currently gold and diamonds, although iron ore used to be the country's major product. Artisanal workings currently account for 98% of gold and diamonds produced with an estimated 20,000 to 30,000 artisanal miners operating in the country. It is estimated that artisanal mining produces 1 tonne of gold per year. Liberia remains largely unexplored by modern means and has exceptional potential for hosting large deposits of gold, iron ore and other minerals. In addition to known potential world class gold deposits in the Birimian formations, Paleoproterozoic gold deposits, such as are expected to be found in Liberia, constitute a very important mineral class globally, contributing to the bulk of the world's gold supply.
Liberia's GDP is expected to grow at a rate of 11% between 2008 and 2012 with the anticipated revival of the mining, forestry and agricultural industries.
While the country continues to focus on rebuilding itself, Liberia's untapped mineral wealth in the productive West African Craton provides significant exploration potential for world class mineral discoveries.
(Excerpt from 15k Coastal Corporation profile of Liberty International) (2009)