Project :: Gibi Mountain
Gold, Base Metals, Diamonds
Margibi
The Gibi Fault Prospect is located in the Gibi Mountain region of Margibi County approximately one and a half hours drive from the capital city of Monrovia. It is another of Liberty's many gold prospects and also holds the possibility of being a source for diamonds and base metals.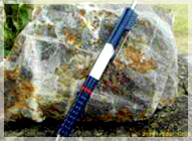 The geology of the Gibi Fault Prospect area is mainly Archæan aged granite with some amphibolite facies, granitic gneiss and some iron formation rocks (Itabirite?).  Locally, field geological mapping conducted to date has also revealed that the area is underlain by some intrusive magmatic system environments.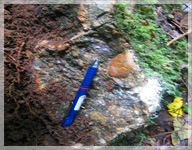 Structurally, Gibi Mountain lies on a major thrust fault zone and some planar minor faults.  This thrust fault has drifted about 2.3km NE - SW and dips an average of about 50 degrees to the west.  The minor faults also intersect this thrust fault at right angles and trend NW - SE.  There is significant stress and strain of most of these rocks which has resulted in rock folding, mostly in the area of the major thrust fault zone.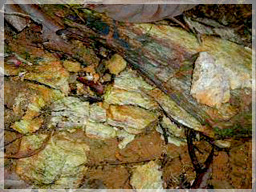 The mineralization of the area seems to be controlled by hydrothermal alterations associated with the hot magma fluid injected into the fissures of the fault zone.  These alterations are commonly within the surrounding walls of the fault plain.  The potential zones are also associated with sheared quartz veins and schist.
Various lithologies such as phyllite, dolomite, diorite and some sedimentary units like schistose conglomerate observed in this environment make it potentially able to host base metals like nickel, chromite, etc.
A 400m x 50m soil geochemical survey and sample grid has been completed by Liberty geologists.  The results of the 4944 samples reveal a weakly anomalous gold-in-soil trend along the strike of the mountain and the fault plain.  A geophysical survey has been planned for this prospect in 2009.  There has been a first phase of geologic mapping over this property, especially the area around the fault zone.  This has revealed a lot of geology which was not noted on the USGS geologic report of the area.  A detailed geological mapping program is planned for this prospect.
Fieldwork statistics to date on the Gibi Fault Prospect are presented in the table below.
# of Stream
Sediment Samples
# of Soil
Samples
# of Rock
Chip Samples
# of Diamond
Indicator Samples
369
4944
164
54