Project :: Kuobahn Mountain
Gold
Nimba South
The Kuobahn Mountain Gold Project located in the central east part of Liberia is highly prospective for a significant gold deposit. The area is cut by quartz veins and contains numerous placer gold operations. All of the streams in each direction that have their source in the small Kuobahn Mountain region have been found to carry gold mineralization. The area has reportedly experienced several gold rushes in the past as well as local reports of two tragic cave-ins on the south side of the mountain where alluvial miners were digging under the mountain in quest of high gold mineralization.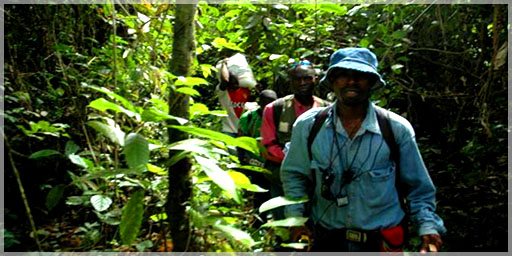 In 2004, Liberty conducted a small pilot alluvial pit program in the Kuobahn area from which the local inhabitants contracted by Liberty, turned in to the Company 29 grams of gold from a pit, most of which was rough, highly angulated gold nuggets measuring up to approximately 12 mm in size, indicating the source of the gold could be very close.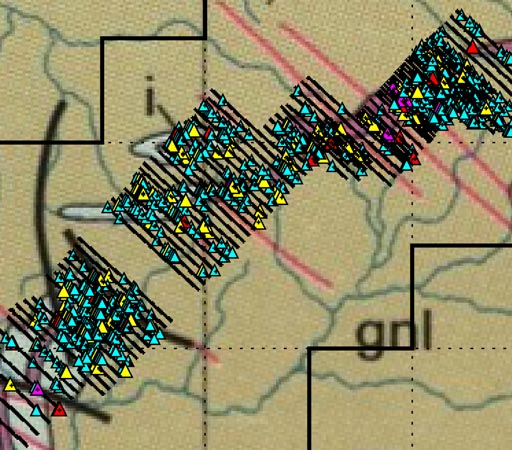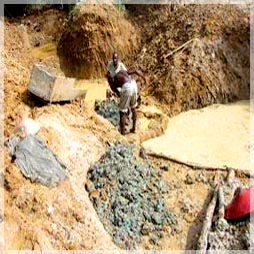 Early stream sediment reconnaissance work conducted by Liberty indicated an anomalous 40 kilometre by 7 kilometre potential gold zone. Exploration work on the property to date includes 379 kilometres of line cutting, test pitting and soil sampling (10,034 samples collected). The Kuobahn Mountain is covered by a thick duricrust which is believed to mask much of the suspected mineralization. Liberty intends to conduct an initial RAB (Rotary Air Blast) drill program over the most prospective areas of the mountain in anticipation of locating the main mineralized zones for deeper diamond core drilling.
Liberty geologists believe that the Kuobahn Mountain Project has the potential to host significant gold mineralization. A second area of high interest is in the south western part of the concession where high gold values have been identified in the soil grid over mapped contact points in itabirite.