Project :: Bopolu South Kanyala
Gold
KPO Mountain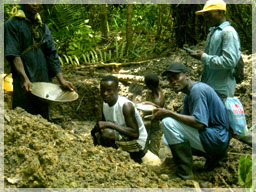 Kanyala :: Gbakwata
Alluvial Mine Site
The Kanyala (Bopolu South) Prospect is one of Liberty's newest projects in Liberia and appears to be highly prospective for a gold deposit.
The prospect is located south of the Kpo Mountain Range where the initial reconnaissance program indicated highly elevated gold values in the streams and some artisinal miners near the village of Kanyala are mining alluvial flats and hard rock for gold.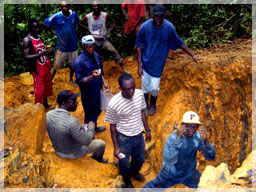 Kanyala :: Bellekparamu
Hard Rock Mine Site
The Kanyala (Bopolu South) prospect is underlain by two broad basement lithologies, namely granite and granitic gneiss, into which quartz veins and veinlets have been intruded. The general trend of both lithologies ranges between 44º - 82º, dipping steeply to the northwest (>65º). Around the Kanyala alluvial mining site, the area is underlain by greenstone and itabirite (banded iron formation).
Field observations show that gold mineralization is controlled by both the lithological contact between the granite and granitic gneiss, and by quartz veinlets and the itabirite iron formation in the ultramafic rocks and amphibolites, which have intruded both lithologies.
The main lithology which contains most of these potential anomalous soil zones is the mafic greenstone belt in contact with very massive, undisturbed smoky quartz veins.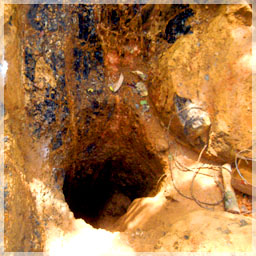 On the other hand, where the quartz veins are sheared, there are veinlets that are inter-bedded with the intensively sheared mafic schist. Most of this sheared mafic schist has been altered by hydrothermal fluids rich in carbonates and iron oxides. The carbonate-rich altered zones have high grades of gold throughout the Kpo Greenstone formation.
The 6.5km long prospect stretches from Bopolu in the southwest to Kanyala in the northeast. Visible gold grains picked in the stream sediment sampling program have recorded high spotty anomalous values in the range of 200 – 950ppb Au. These anomalous Au values are from streams that take their source from Guma Hill which trends on strike with the mafic intrusive greenstone belt at Kanyala.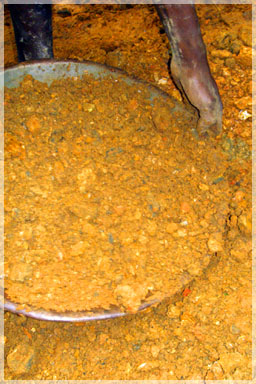 Soil geochemical surveys and sampling of these targets have been completed. Soil geochemical grid lines on the Kanyala target were sampled in June 2008. The remainder of the soil geochemical sampling program was completed in December 2008 along the southern part of the property on a total of 216km of traversed lines. All samples have been submitted to the ALS Chemex Lab in Kumasi, Ghana, for Au fire assay analysis. Many of the geochemical soil sample results are still pending.

Incoming soil assay results from the ALS lab in Ghana have confirmed the trend in mineralization to the NE-SW of the property. Currently, a 1.7km strike of a fairly strong anomalous soil zone has been discovered.
An infill soil geochemical sampling program is planned for early 2009 in order to properly delineate the anomalous soil targets at the Kanyala Prospect area. Significant soil anomalies will be trenched and sampled.
Detailed geological mapping, including regolith and rock chip sampling, may be followed by a ground geophysics program later in 2009.
Statistics to date are listed in the table below.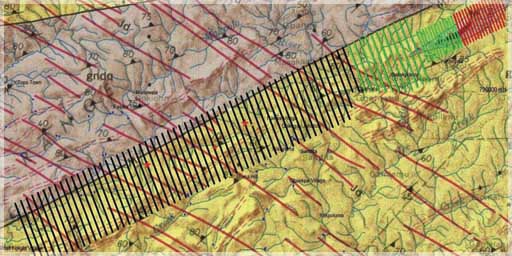 Click for Full Size
| | | | |
| --- | --- | --- | --- |
| # of Stream Sediment Samples | # of Rock Chip Samples | # of Soil Samples | # of Trench Samples |
| 113 | 31 | 2558 | 85 |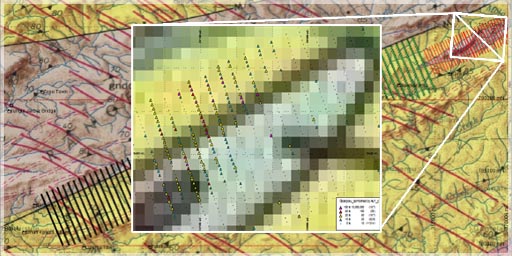 Click for Full Size of Close Up