Project :: Putu Mountain
Gold
Grand Geddeh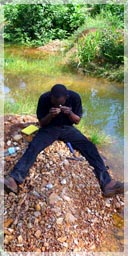 The Putu Mountain prospect in the northwestern region of the Putu Range is highly prospective for the discovery of significant gold mineralization.
Lithologically, the Putu area is underlain by granitic gneiss with pyrite and quartz laminations. The general average strike of this formation is 305 ۫ (NW – SE) with an average dip between 50۫ and 70۫ to the west. There is an amphibolitic intrusive formation at the northern portion of the license around Boundary Town.
Gneissic iron bands in the area are highly weathered and highly silicified with some degree of shearing. In addition, the area is also covered with abundant iron formation rocks (itabirite) which trend NE – SW.

The Putu Mountain Prospect straddles the Juazohn Shear Zone and covers the northern extension of the Putu Mountain Range where Liberty geologists have cut and sampled a 400m x 50m soil grid approximately 11km x 6km in size. Some infill lines were cut and sampled at 200m x 50m intervals.
Three primary strong gold anomalies have been identified in the prospect area to date with soil values ranging as high as 600 - 900 parts per billion (ppb) gold, with background values averaging approximately 1 – 5 ppb gold. The mineralization appears to be structurally controlled and associated with itabirite and iron banding.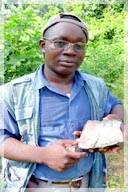 One of the most interesting areas of the prospect is where large faults have cut across the Juazohn Shear Zone in an area that is quite remote and needs further line cutting and soil sampling.
Liberty intends to follow up the initial results with additional soil grids, mapping, and geophysics programs to delineate drill targets on this highly prospective project.