Project :: Nimba Northeast
Gold
Nimba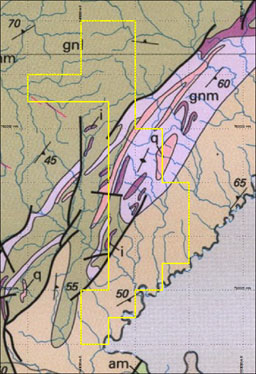 Click for Large Size
The Nimba North East prospect, as its name suggests, is located in the northeast region of Nimba County, Liberia, next to the Cote D'Ivoire border. The only work that has been done by Liberty on this property was during the 2005 reconnaissance program which indicated that the prospect has potential for the discovery of source gold.
The reconnaissance program completed in 2005 included the collection of 206 regional stream sediment samples. Anomalous thresholds of between 150 - 400 ppb Au were obtained from spot samples collected in streams that take their source from the iron-capped (itabirite) mafic greenstone belt in the central portion of the license. Background gold values averaging 10ppb Au from the stream sediment survey were also reported.
Based upon the stream sediment results and geological mapping, a regional 400m x 50m soil sample grid over the NE - SW trending greenstone belt in the center of the license has been proposed for 2009. If significant soil anomalies are encountered, an infill 200m x 50m soil sample grid will be undertaken, followed by a trenching program to test the subsurface extent of any gold - in - soil anomalies that are identified.